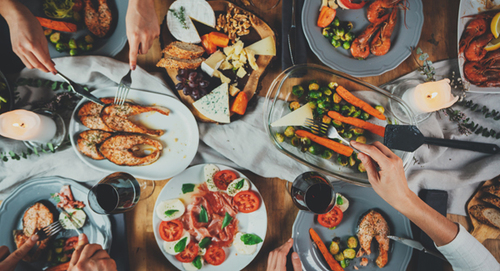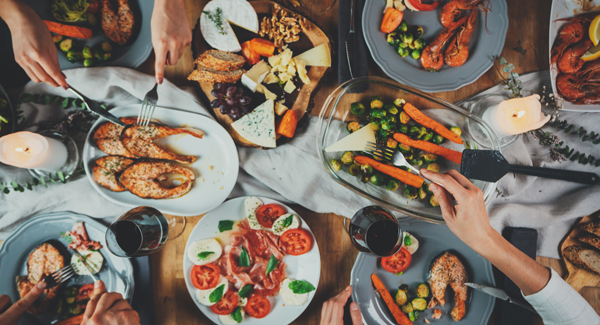 Mediterranean Diet Yields Gut-Linked Health Lifts
Clinical study sees immune, brain, bone boosts from gut biome benefits
02/24/2020 By Craig Weatherby
People across the globe are projected to live longer than ever before.
So, it's important to find ways of lengthening their "healthspan" — in other words, to help people maintain good health throughout their lifespan.
Exercise and diet are key to healthy aging, but researchers have begun to look at the role played by people's gut microbiomes.
Now, the encouraging results of a clinical trial show that closely following a Mediterranean-style diet changes the microbiome in ways that should promote wellness and healthier aging.
Specifically, the Mediterranean diet change people's biomes in ways previously linked to reduced risk for frailty and to better thinking, memory, immunity, and bone strength.
Before we get to the intriguing results of this Europe-based trial, let's quickly review what the microbiome is all about.
A briefer on the microbiome
The microbiome of an organ such as the skin or gut is the community of trillions of microbes that live within it.
Although these terms are often used interchangeably, a person's gut microbiome is the genomes (e.g., DNA) of all the microorganisms living in their intestines, while their gut microbiota is the roster of microbes — mostly bacteria, viruses, and fungi — dwelling there.
Most of the microbes in your gut are either harmless or they benefit us by producing vitamins and fibrous, metabolically beneficial compounds like inulin, arabinoxylan, and resistant starch — while helping keep unfriendly microbes from becoming problematic.
The makeup of your microbiome is partly influenced by your personal genetics, and changes constantly in response to diet, physical activity, inflammation, medications, and more.
In addition to a person's genetics diet, and lifestyle, the composition of their microbiome can either help prevent or promote physical disorders like diabetes and obesity as well as anxiety, depression, and other mood disorders.
Accordingly, an international team — led by Prof. Paul O'Toole of Ireland's University College Cork — wanted to see if diet can make microbiome changes known to discourage chronic disease and promote healthy aging (Ghosh TS et al. 2020).
"Mediterranean microbiome" exerted healthful effects
For their year-long study, the international team recruited 612 people aged 65-79 — including 286 men and 326 women — living in the UK, France, the Netherlands, Italy, and Poland.
The scientists randomly assigned the participants to one of two groups:
Maintain their usual diet.
After one year, people in the Mediterranean diet group displayed microbiome changes linked to better cognitive function [thinking/memory], less inflammation, better bone strength, and reduced risk of frailty.
Overall, the Mediterranean diet group enjoyed several benefits:
Greater microbial diversity (more species — a good thing).
Fewer pro-inflammatory compounds produced in the body.
More microbes linked to sharper thinking and better memory.
More microbes linked to signs of reduced frailty, such as faster walking speeds and stronger hand grips.
At the outset of the study, many of the participants were considered pre-frail — meaning their bone strength and density would likely start decreasing.
And people in the Mediterranean diet group showed fewer signs of risk for frailty while those assigned to the regular-diet group showed more microbiome-related signs of risk for frailty.
What changed in the microbiomes of the Mediterranean diet group?
At the outset of the 12-month trial, the participants' microbiomes varied by country, but one year later the microbiomes of the Mediterranean diet (MD) group had undergone significant changes:
More "MD-positive" microbes — in other words, ones that flourished on the diet.
Fewer "MD-negative" microbes, which either didn't flourish on the diet and/or couldn't compete with the MD-positive microbes.
Critically, the MD-positive microbes were types previously linked to less frailty and inflammation, and higher levels of cognitive (thinking/memory) function — benefits that also grew as the number of MD-negative microbes shrank.
Importantly, the extent of beneficial microbiome changes reflected how closely a person followed the Mediterranean diet — the closer their adherence, the bigger the benefits.
Why are the microbiome changes from a Mediterranean diet beneficial?
A closer look revealed that the benefits of the microbiome changes seen in the Mediterranean diet group likely stemmed from two things:
The MD-positive microbes produce short chain fatty acids that exert effects known to benefit several body systems.
The MD-negative microbes produce certain bile acids known to raise the risk of bowel cancer, insulin resistance, fatty liver, and cell damage.
Based on prior evidence, the beneficial microbiome changes among the Mediterranean diet group were likely caused — at least in part — by greater intakes of fiber and certain micronutrients: especially vitamins C, B1 (thiamine), B6 (pyridoxine), and B9 (folic acid), copper, potassium, iron, manganese, and magnesium.
Although the team linked negative changes in the control groups' microbiomes to an increase in fat intake — primarily saturated and mono-unsaturated fats — relative to the Mediterranean diet group, the available evidence does not suggest that relatively high-fat diets are inherently unhealthful.
The trial's results also showed that the microbiome changes seen in the Mediterranean group occurred regardless of a person's age or body mass index, both of which can impact the microbiome.
Conclusions and next steps
Although the diet-driven microbiome changes seen in the Mediterranean group were relatively small, they produced big effects in just one year — and the researchers speculate that continuing the Mediterranean diet longer might further enhance the microbiome.
Future studies will need to focus on what key ingredients in a Mediterranean diet — other than the fiber and micronutrients mentioned above —were responsible for these positive microbiome changes.
Other possible microbiome-influencers in a Mediterranean-style diet include specific types of protein, fat, carbohydrates, and antioxidants.
Overall, the encouraging results of this study suggest that the closer you can stick to a Mediterranean-style diet, the more your gut microbiome will shift to a healthful, anti-aging mode.
They also suggest that you don't necessarily need probiotic supplements to make significant, beneficial changes in your gut — ones likely to benefit mind and body alike.
Sources
De Filippis F, Pellegrini N, Vannini L, Jeffery IB, La Storia A, Laghi L, Serrazanetti DI, Di Cagno R, Ferrocino I, Lazzi C, Turroni S, Cocolin L, Brigidi P, Neviani E, Gobbetti M, O'Toole PW, Ercolini D. High-level adherence to a Mediterranean diet beneficially impacts the gut microbiota and associated metabolome. Gut. 2016 Nov;65(11):1812-1821. doi: 10.1136/gutjnl-2015-309957. Epub 2015 Sep 28.
Ghosh TS et al. Mediterranean diet intervention alters the gut microbiome in older people reducing frailty and improving health status: the NU-AGE 1-year dietary intervention across five European countries. Gut. 2020 Feb 17. pii: gutjnl-2019-319654. doi: 10.1136/gutjnl-2019-319654. [Epub ahead of print]
Original article posted on the VitalChoice.com site, by Craig Weatherby.
Article re-posted on Markethive by Jeffrey Sloe
Jeffrey Sloe