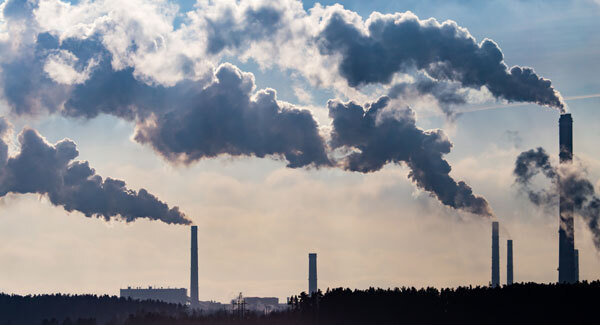 Eating Fish May Protect Our Brains From Air Pollution
Microscopic particles of air pollution can damage brain cells. Omega-3s could act as a shield.
September 7, 2020 By Nathaniel Scharping
Air pollution is a constant companion in modern society, often even for those of us living outside cities. And it's taking a toll on our health in the form of heart, lung and brain problems. Simply put, the more air pollution you're around, the more likely you are to die earlier (Pope, 2000).
Air pollution may be inescapable, but there's hope. A new study shows that people who eat a diet rich in omega-3 fatty acids seem to be shielded from brain degeneration, even when they live in areas with high levels of air pollution (Chen et al., 2020).
The study, from researchers at Columbia University's Irving Medical Center, backs up years of prior research on omega-3s and the brain. Not only are the fatty acids crucial to developing and maintaining healthy brain cells, they likely also serve to protect them as well.
No Escape From Air Pollution
Even in places where the air isn't visibly dirty, pollution can be an issue. For their study, the researchers focused on particulate matter, a type of air pollution made up of microscopic particles and droplets such as smoke, soot and dust.
Particulate matter has many sources: vehicles, factories, agriculture, and even some natural processes. Wildfires are also potent producers, as millions of Californians were reminded this summer (Thurston et al., 2011).
So, while levels of particulate matter are falling on average nationwide, air pollution is still a serious problem in some areas of the U.S. Scientists classify most particulate matter air pollution into two categories:
10 micrograms (or ten millionths of a gram) or smaller, known as PM10. Typical sources include construction-site dust, pollen, and wildfire smoke.
5 micrograms or smaller, dubbed PM2.5. These are more likely to come from human-technology sources, especially vehicles.
Both classes are harmful to humans, but the smaller PM2.5 particles can penetrate deeper into the lungs when inhaled, making them potentially more dangerous. And for years, studies have pointed out the myriad health issues that these particles cause. Higher levels of airborne particulate matter are associated with heart and lung problems, as well as with premature deaths in general (Pope, 2000). High PM2.5 levels have also been linked to a number of brain issues, including inflammation and decreases in brain volume among older adults (Wilker et al., 2015).
This kind of brain damage can be a marker for cognitive decline in the elderly, and it can be difficult to recover from. That makes it crucial to prevent damage before it happens.
A Link Between Brain Health and Seafood
For this latest research, the scientists looked at data from a large study conducted between 1996 and 2006 called the Women's Health Initiative Memory Study-Magnetic Resonance Imaging (WHIMS-MRI). It included over 1,300 healthy women between the ages of 65 and 80 who agreed to MRI scans of their brains, and who answered a battery of questions about their lifestyles, diets and more. The researchers also collected blood samples to measure levels of two important omega-3 fatty acids, EPA and DHA, in the women's bodies.
Then, the researchers used national data on air quality from the Environmental Protection Agency to track each participant's exposure to PM2.5 air pollution. With that data in hand, they could cross-reference three key things: air pollution exposure, brain health and omega-3 intake.
After accounting for a variety of factors, the researchers saw two clear trends. Women who were exposed to more air pollution had lost greater amounts of white matter in their brains, as well as brain volume in the hippocampus. But those with a diet that was rich in seafood — and therefore included plentiful omega-3s — had no such brain loss, even when they were exposed to air pollution.
The takeaway was that omega-3 fatty acids are likely to protect against the neurodegenerative effects of air pollution (Chen et al., 2020).
How Omega-3s Protect Our Brains
The researchers propose a few ways that omega-3s might help shield our brain health from particulate matter pollution. Omega-3s help protect and repair the protective myelin sheaths that shield our nerves and brain cells, keeping neurons intact and healthy. The fatty acids also help tamp down inflammation in our brains and bodies, preventing damage to cells (Chen et al., 2020).
The researchers say the effects they saw represent only a correlation, not causation. So, while people who ate more omega-3s were also protected from pollution, they couldn't show a direct cause-and-effect relationship. In addition, their study looked only at older women, so future research could better assess how omega-3s may shield other populations.
Still, scientists have been discovering associations between omega-3s and brain health for years. There's enough evidence that even healthcare providers consistently recommend we get enough of the fatty acids in our diets.
Of course, omega-3s are good for us for many other reasons as well. They're crucial building blocks for brain cells, and the fatty acids help keep our brains in top shape as we get older. Protecting us from air pollution is simply one more beneficial effect.
You can make sure your diet has enough omega-3s in it simply by consuming a few servings of seafood every week. Fish and other seafood, like Vital Choice's wild-caught salmon, are the richest dietary sources of EPA and DHA, and they deliver a liberal helping of other essential nutrients as well, from vitamin D to antioxidants. An Alaskan sockeye fillet comes packed with almost 600 milligrams of EPA and over 1100 grams of DHA per serving.
In our dusty, smoggy, smoky world, these are nutrients that our beleaguered brains truly need.
Sources:
C. Arden Pope III (2000) Review: Epidemiological Basis for Particulate Air Pollution Health Standards, Aerosol Science & Technology, 32:1, 4-14, DOI:10.1080/027868200303885
Chen C, Xun P, Kaufman JD, et al. Erythrocyte omega-3 index, ambient fine particle exposure, and brain aging. Neurology. 2020;95(8):e995-e1007. doi:10.1212/wnl.0000000000010074
DiNicolantonio JJ, O'Keefe JH. Importance of maintaining a low omega–6/omega–3 ratio for reducing inflammation. Open Heart. 2018;5(2):e000946. doi:10.1136/openhrt-2018-000946
Thurston GD, Ito K, Lall R. A source apportionment of U.S. fine particulate matter air pollution. Atmospheric Environment. 2011;45(24):3924-3936. doi:10.1016/j.atmosenv.2011.04.070
Wilker EH, Preis SR, Beiser AS, et al. Long-Term Exposure to Fine Particulate Matter, Residential Proximity to Major Roads and Measures of Brain Structure. Stroke. 2015;46(5):1161-1166. doi:10.1161/strokeaha.114.008348
Witte AV, Kerti L, Hermannstädter HM, et al. Long-Chain Omega-3 Fatty Acids Improve Brain Function and Structure in Older Adults. Cerebral Cortex. 2013;24(11):3059-3068. doi:10.1093/cercor/bht163


Markethive Advertisement
The original article written by Nathaniel Scharping and posted on VitalChoice.com.
Article reposted on Markethive by Jeffrey Sloe
Jeffrey Sloe